BREAKING NEWS...SALE in MY STORE at One Single Seed and A FREEBIE here for you!


Well, everyone! I hope you are enjoying your evening and weekend. I have been working my tail off getting new product ready for my store at One Single Seed. I can't wait for you to see, BUT not until April 1! I have a BIG beautiful

Collab SPECIAL SURPRISE

that will be release along with my part of the

Digi Shop Talk April Blog Train

, yup that is right The train is loading and will be departing April 1. So get you hard drives cleaned make room for this one, it is beautiful....LOTS of goodies for you this coming up month. Although I will have a few other kits in my store, ALL the kits I have in my store now will be

gone

as of

March 31 at midnight East Standard Time

. They at Still only

2.00 each

, so do miss out as they will be gone to make room for new kits (there is a slide show at the top of all the kits that are retiring.....
Yes, it is OUT with the old in with the new....So Please stay tuned.
I know that my BBF Linda aka Bon Scrapatit Designs has been working on a post for you as a

little birdy

told me so but I have not heard from her yet....so Stay tuned for her post as well.
She has been so Quiet....that usually means she is working on goodies for you.
So make sure you check her blog out and keep your little beepers open to she what she has in store for you!
Now for your alpha
to my Kit..

.Little Tweety

....Part of KimB's Color Challange at DSO...I thought I should give it a name. I hope you enjoyed this kit and that you grab it soon. As of April 1, 2009 it will be gone as well, but not totally, I am going to put it in my store.

I want you to know that many other blog glas are starting this and I do think it is a good idea, but I am going to start posting my blog freebies for one week and then taking them off my 4share account. I just can't keep up with that removing the links anymore. If you need to contact me my email address is on top of my left side panel.

I hope you enjoy your tomorrow and I am off to bed....here is your alpha,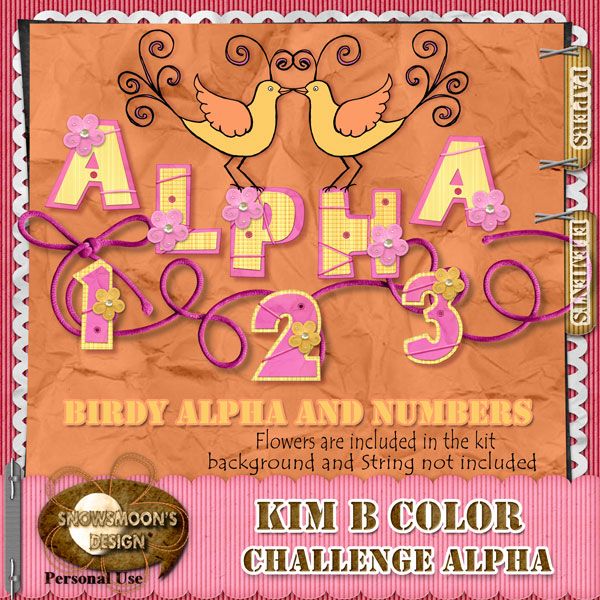 Sorry link has been removed but coming soon to OSS Store